Passionate about teaching, making and directing music

If like me, you have have a passion for music then you are definately in the right place.
At my new home studio, as well as offering support for GCSE, BTEC, 'A' Level and Music Theory, I have limited vacancies for instrumental tuition on Piano, Brass, Drums and Saxophone.
With many years experience as musical director for a wide range of bands and music organisations, I also have some further availability for directing workshops, conducting and training music ensembles.
If you want to further the musical journey of your child, yourself or your ensemble then please get in touch.
Borrowing a few words from J K Rowling, "Dumbledore conducted their last few lines with his wand and when they had finished, he was one of those who clapped loudest. 'Ah music,' he said, wiping his eyes. 'A magic beyond all we do here!"
― J.K. Rowling, Harry Potter and the Sorcerer's Stone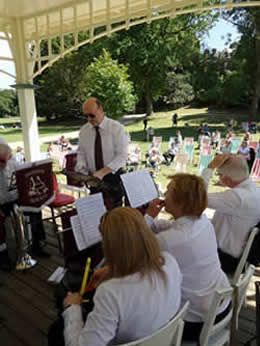 Conducting East Peckham Silver Band on the bandstand in Alexandra Park, Hastings.