My journey teaching, making and directing music

I have a wealth of experience as a music educator, player and conductor. After graduating from Leeds College of Music on Euphonium and Piano, with guidance and inspiration from great teachers such as Trevor Walmsley, Major Peter Parkes, Robert Childs and William Miller. I worked for some time as a professional musician before training to be a secondary school music teacher at Bretton Hall, Wakefield. Subsequently over the past 25 years I have worked as Head of Music or Performing Arts, played and conducted in Cleveland, Essex, Kent, London Borough of Bexley and more recently back in the north east.
Growing up in the north east, I started my involvement with music learning to play the piano with Christine Purvis, a fantastic teacher to whom I owe a great debt and sadly is no longer with us. My journey in brass playing started a little later with Egglescliffe School Band and other local bands such as, Havertonhill Silver Band and Head Wrightsons Works Band (subsequently Middlesbrough Brass). Whilst studying at Leeds I followed an interest in conducting and took the opportunity to study the subject in more depth, practising on ensembles and orchestras within the college as well as various bands in and around the Leeds area.
As a professional musician in my younger days I taught brass and piano, worked as an MD at Stockton's Dovecot Arts Centre, as well as regularly performing; coctail piano, in function bands and accompanying for practical examinations. I first picked up percussion (curtesy of Kevin Edwards) and saxophone at teacher training college and have found both skill sets extremely usefull over the years. In all honesty I am still learning, (just taken up the Cello, appologies to the neighbours!) and I am just as committed to making music and giving access to 'music for all' as I was when I first started playing and teaching.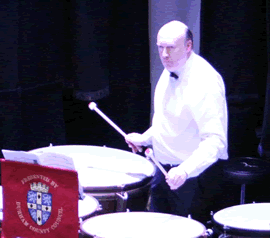 Playing percussion with North Skelton Band at Durham.